Annual Reports and Collateral
An annual report as a printed piece or digital will contain the all-important financial information, but it should also tell a story. It should speak of the success and monumental changes that have impacted the company. Take this opportunity to strengthen your brand, inspire employees and keep your shareholders excited.
Corporate collateral sometimes referred to as marketing collateral, it's a collection of materials used to support the product or service. Designed to make the sales easier and more effective by delivering the necessary information in a clear and consistent way. Collateral should always be designed in such a way as to advance the brand position.
Services:
Annual Reports
Catalogs
Data Sheets
Pocket Folders
Programs
Sell Sheets
White Papers
Given to each guest at the Vero Beach resort this "newsletter" informed the reader about the many amenities the resort has to offer. It was designed to reflect the look and feel of the resort.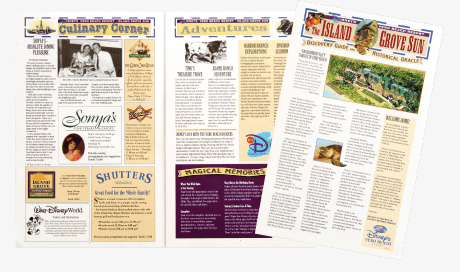 This multi-page program included performer bios, maps, information about the Exchange Club and sponsor advertising. Working with the volunteers and the Blue Angels was a true pleasure.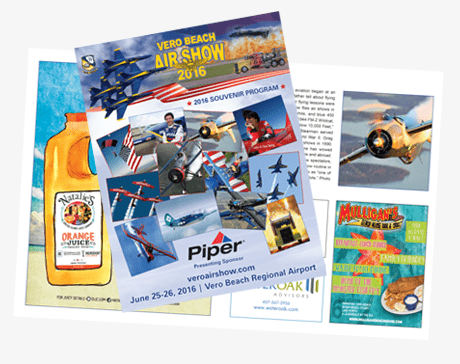 Catalogs both digital and print can be an important part of a manufactures success. The CaribSea 36 page catalog was designed to appeal to hobbyists and and retailers alike. Distributed digitally, at tradeshows and through the mail.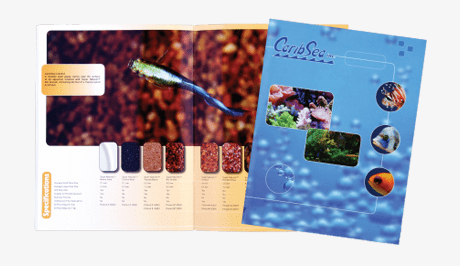 The Grand Harbor pocket folder is used for potential buyers and new home owners. It is stuffed with floor plans, club, and local information for prospects and legal documents, appliance users guides, warranties and welcome letters.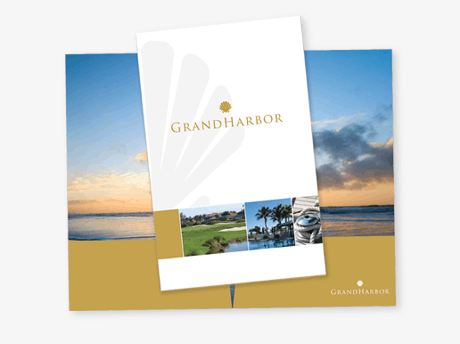 The John's Island Foundation annual report is distributed to every donor. It is designed in such a way as to report on the past years success as well as make an appeal for an end of year donation. The foundation sends an annual report, a brochure and one letter each year and raises over $750,000 to help Indian River County non-profits.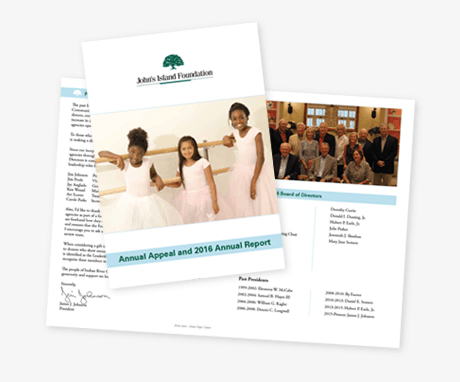 The VNA is an integral part of our communities health. This annual report included stories of success and celebrated the long history of caring. The financial information was designed to be easily read and understood by all readers.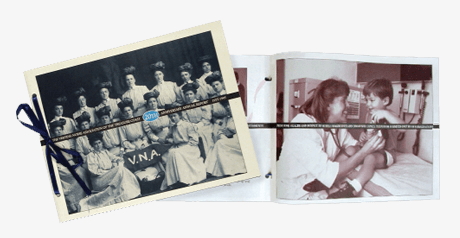 What Our Clients Are Saying About Us
Economic Opportunities Council​
Nancy M.
"A pleasure to work with, very knowledgeable and responsive.  We love what they have done with our website!"
Carter
Emily L.
"Jones & Jones Advertising is THE BEST! Timely, efficient, and professional. It is great to know that every time I ask for help, they respond immediately."
Rennick Auctions
Patty R.
"I had a great experience with Tor. He did exactly what I asked and so quickly. It was a pleasure to work with him."
Reading Garden
Heather R.
"I tried for years to do it alone, however realized I needed help by a professional. It's put me at ease for YEARS."
Florida Eye Institute
Cindi G.
"We have worked with Jones & Jones Advertising, Inc. for over 10 years. Tor Jones is constantly discovering new ways to help grow your business. Easy to work with and always an absolute pleasure!"
Vero Beach Air Show
Cathrine C.
"I am happy to recommend the services of Jones & Jones, they are efficient, market savvy and creative - an asset to any enterprise seeking skilled advertising."
Classic Cushions
Christiana B.
"Our company has worked with Jones & Jones Advertising for years and could not be happier! Tor is hard-working and his designs are flawless. I highly recommend them for all advertising projects!"
Matheson and Horowitz
Michael H.
"We have had an excellent experience working with Jones & Jones. Their work is top notch and has always been done very quickly upon request. I would not hesitate to recommend them."
Avion Trace Group
Sherry C.
"Tor was amazing at helping me design my logo. He understood my thought process and what I wanted it to stand for. Thank you Tor!"
Run Vero
Jim V.
"Tor does an excellent job creating logos and working with you to meet your vision. Highly recommended."
Mary Silva Law
Mary S.
"Listens to client needs. Creates beautiful designs that produces results. Goes above and beyond what we expected."
Friends After Diagnosis
Larry M.
"Creative, hard-working, eager to please, great sense of humor -- what's not to like?"
Tattler
John L.
"We have been working with Jones & Jones about 18 years now. They are a fantastic organization and very professional."
Sebastian River HS
Jennifer B.
"I highly recommend Jones & Jones Advertising for your design needs. I've admired Tor Jones' work throughout town for years and now use his services for the SRHS Rugby merchandise."
Author & Speaker
Mary P.
"I knew what I wanted going in, Tor clearly listened to me and delivered. He was always pleasant and accommodating with changes and multiple final final versions. I am beyond pleased with the final outcome of both jobs."
Florida Housing Coalition
Lisa D.
"Amazing. One of the best graphic minds I've ever had the pleasure to work with."
Inside Track Almanac
Kimberly P.
"Tor's diligence in handling marketing campaigns is always spot on. Tor has that hard-to-find balance of expertise in both creative development AND media placement."
First Presbyterian Church
Ginny G.
"Tor is a creative genius and a pleasure to work with."