Point of Purchase or Point of Sale covers a broad spectrum from hangtags to large end-cap displays. It is important to remember one thing that they all have in common; it needs to be designed to motivate a sale Right Now, it's not to drive people to a website or give them something to take home. It's all about the impulse buy! 
SERVICES:
Neckers
Hang Tags
Table Tents
Posters
Displays
These point of purchase table tents we're designed for nightclubs and bars. We designed them in such a way to temp the reader to pick them up if you can get the reader to touch it creates an even better connection to the product then viewing alone.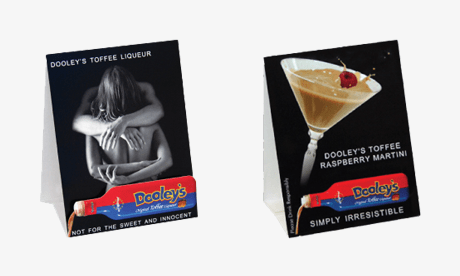 These tent cards were also designed for nightclubs and bars. They are fun and flirty just like the product – its all about the party.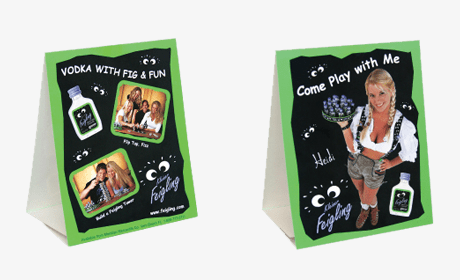 Designed for the resorts restaurants tables as well as guest room desktops. These point of purchase cards are slipped into wooden card holders that matched the hotel decor. The cards inform the guests of the activities available off property.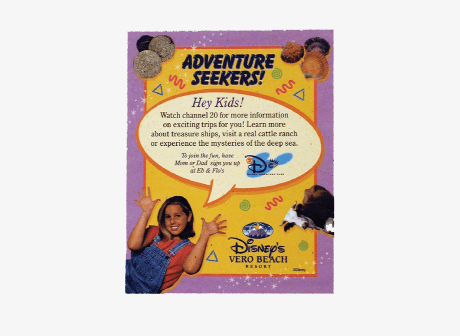 Used in liquor stores these "neckers" drew attention to the bottles and made a real impact on sales. We changed them out from time to time having special offers or opportunities to win the Dooley's tipsy glasses and that allows us to grow the email list.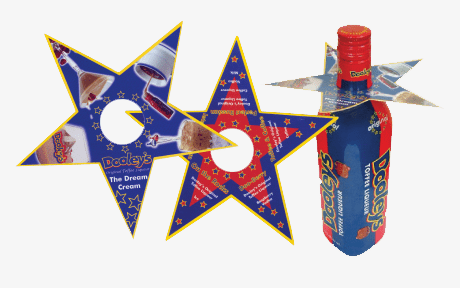 Great model from right here in Indian River County for this 24″ x 36″ poster that hung in both liquor stores, nightclubs and bars across the US and Europe.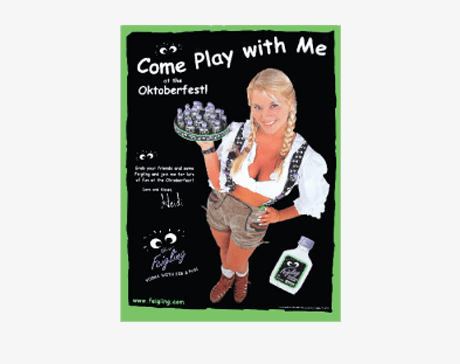 What Our Clients Are Saying About Us
Economic Opportunities Council​
Nancy M.
"A pleasure to work with, very knowledgeable and responsive.  We love what they have done with our website!"
Carter
Emily L.
"Jones & Jones Advertising is THE BEST! Timely, efficient, and professional. It is great to know that every time I ask for help, they respond immediately."
Rennick Auctions
Patty R.
"I had a great experience with Tor. He did exactly what I asked and so quickly. It was a pleasure to work with him."
Reading Garden
Heather R.
"I tried for years to do it alone, however realized I needed help by a professional. It's put me at ease for YEARS."
Florida Eye Institute
Cindi G.
"We have worked with Jones & Jones Advertising, Inc. for over 10 years. Tor Jones is constantly discovering new ways to help grow your business. Easy to work with and always an absolute pleasure!"
Vero Beach Air Show
Cathrine C.
"I am happy to recommend the services of Jones & Jones, they are efficient, market savvy and creative - an asset to any enterprise seeking skilled advertising."
Classic Cushions
Christiana B.
"Our company has worked with Jones & Jones Advertising for years and could not be happier! Tor is hard-working and his designs are flawless. I highly recommend them for all advertising projects!"
Matheson and Horowitz
Michael H.
"We have had an excellent experience working with Jones & Jones. Their work is top notch and has always been done very quickly upon request. I would not hesitate to recommend them."
Avion Trace Group
Sherry C.
"Tor was amazing at helping me design my logo. He understood my thought process and what I wanted it to stand for. Thank you Tor!"
Run Vero
Jim V.
"Tor does an excellent job creating logos and working with you to meet your vision. Highly recommended."
Mary Silva Law
Mary S.
"Listens to client needs. Creates beautiful designs that produces results. Goes above and beyond what we expected."
Friends After Diagnosis
Larry M.
"Creative, hard-working, eager to please, great sense of humor -- what's not to like?"
Tattler
John L.
"We have been working with Jones & Jones about 18 years now. They are a fantastic organization and very professional."
Sebastian River HS
Jennifer B.
"I highly recommend Jones & Jones Advertising for your design needs. I've admired Tor Jones' work throughout town for years and now use his services for the SRHS Rugby merchandise."
Author & Speaker
Mary P.
"I knew what I wanted going in, Tor clearly listened to me and delivered. He was always pleasant and accommodating with changes and multiple final final versions. I am beyond pleased with the final outcome of both jobs."
Florida Housing Coalition
Lisa D.
"Amazing. One of the best graphic minds I've ever had the pleasure to work with."
Inside Track Almanac
Kimberly P.
"Tor's diligence in handling marketing campaigns is always spot on. Tor has that hard-to-find balance of expertise in both creative development AND media placement."
First Presbyterian Church
Ginny G.
"Tor is a creative genius and a pleasure to work with."